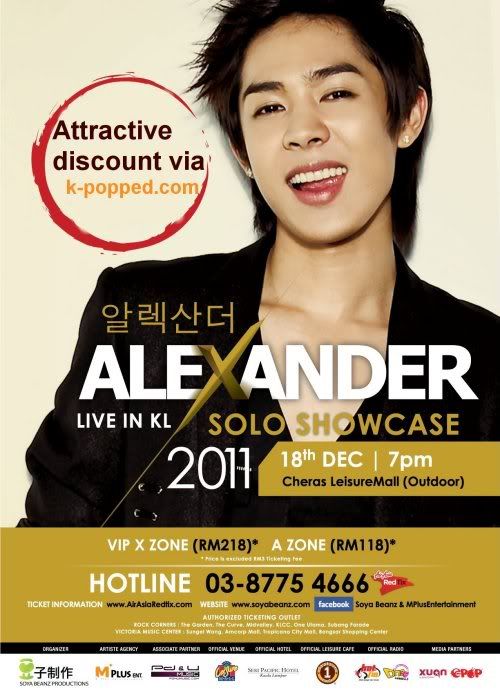 Xander's Live in KL Solo Showcase 2011
Purchase ticket via k-popped.com to get an attractive discount!
Fans of Xander (Alexander Lee Eusebio) will be happy to know that the ex U-kiss member will be in Kuala Lumpur for his first ever Solo Showcase on 18 December 2011 at 7pm!
The 23 year-old performer with mixed parentage (his dad is Portuguese-Chinese and mom is Korean) will be performing at Cheras LeisureMall, Outdoor stage.
At the showcase, Xander will be performing six of his own songs. They are his new singles that have not been released yet. So this will be an exclusive event for his fans (Xanderettes). The showcase will also be like a meet-the-fans session with games, photo opportunities and autograph session.
SPECIAL DISCOUNT VIA K-POPPED!
Soya Beanz, the organizer is giving an attractive discount (it's a very good discount okay people, trust us!) to our readers.
How do I buy the tickets at this special discounted rate?
If you are interested, please send in the below details to orchid.shoppe[at]gmail.com.
Name
IC
Nationality
Gender
E-mail
Mobile no
Ticket type: VIP or A Zone ticket
Number of tickets:
* All tickets are free standing.
* VIP tickets are closer to stage, while A Zone tickets are further.
* Tickets come with an exclusive Xander 2012 calendar
Ticket purchasing process:
* Submit the above details to us to get the discount
* If you agree, your details will be forwarded to the organizer
* Organizer will contact you and provide you with details on payment
* Organizer will issue you a receipt
* Print out and bring receipt to venue of the day of the showcase to collect your ticket and 2012 Xander Calender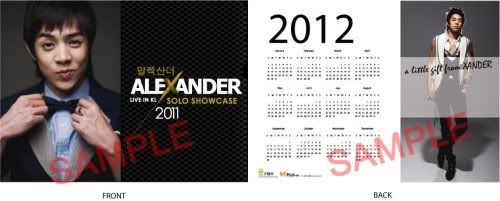 Get this exclusive Alexander Live in KL Solo Showcase 2012 Calendar
when you attend the event! Xander will be available to autograph
your calendars at the showcase.
Xander was in Malaysia last October for the 3rd Wave I Will be There Music Rally with Brian Joo and Pastor Johnny.
C'mon, show Xander your support! His fans would know, he's really shy. =) Before we go, we will leave you with Xander's video invite to his Malaysian fans!