A few days back, the "Male Generation" organization released a statement on their website seeking for ban on the movie, You're My Pet.
In the flick, the female characters were seemingly portrayed as 'owners', while the males were portrayed as 'pets'.
Their stand was that the storyline, which centers around an owner-pet relationship would have caused controversy, if the roles were reversed.

"If females are portrayed as pets in the movie, and they have to obey their male owners, would it still be considered a romantic movie?"
Jang Geun Suk, the main actor of the movie sees it from a different point of view.
"Why wouldn't you be willing to become a pet if the woman is older, more capable, and your entire dinner menu changes when you please her?" said the 24 year-old star.
He reiterated that men should not take personal offense of the movie, just because it wounds their pride. "You aren't always charming if you stay proud all the time," he added.
Touted as one of the leading actors of the new Hallyu Wave generation, he was adamant that his growing popularity does not interfere with his normal life.
"I [can still] freely walk around the streets and I go to university like a normal student."
"If you stay at home all the time, how can you stay in touch with the world and gain the kind of experience you need in order to expand your horizons as an actor?"
He added: "You need to be able to meet and communicate with people and observe how they interact, which can be invaluable to improving yourself as an actor. I think part of my job is to constantly study how people live."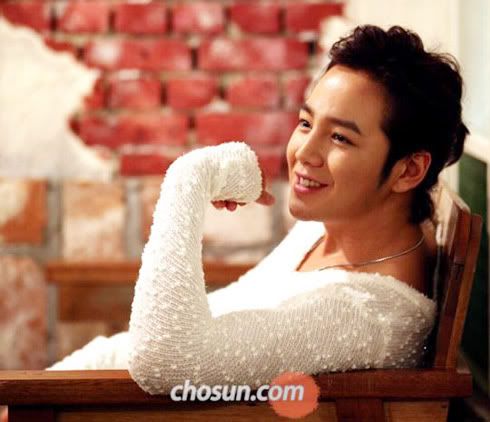 "I love the fact that I can try my hand at a number of different roles and challenges."
Jang also insists that he always sets high goals for himself to constantly achieve greater heights and bring something new to the table every time he performs. Whether it is singing or acting, this high-flying star is surely not content to just rest on his laurels.
"This is the way I approach things," he said. "If I were all talk and no action, I wouldn't be able to respect myself… I want to be a household name in Asia and the rest of the world."
Well, what do you think of the plot for You're My Pet? Would you watch it?