Didn't get enough of FTISLAND during their performance at the 2011 Korean Music Wave concert? Well, the good news is that the five-member band is set to come to Malaysia again.
Yup, our fave Hello Hello guys will be holding a solo concert called 2012 Play! FTISLAND Concert in Malaysia on Jan 14. Showtime is at 8:30pm, at Stadium Negara, Kuala Lumpur.
Tickets are priced from RM138 – 438. Prices quoted exclude the RM3 ticket processing fee.
The concert is specially conceptualized by the FTISLAND members for their fans, Primadonnas. This includes song selection, stage design, overall direction and performances.
Fans will be able to sing along and be immersed in FTISLAND's music at the Rock Zones because the T-shaped stage will give concert-goers a good view of the band.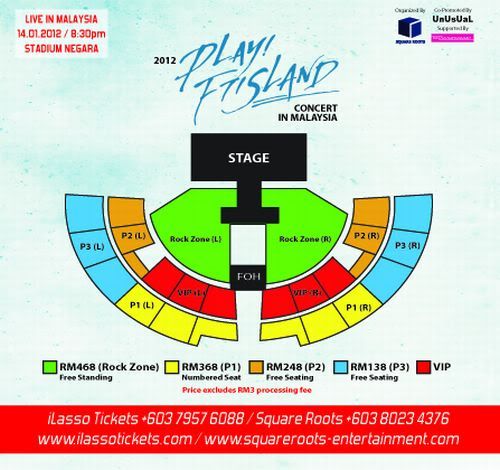 FTISLAND – short for Five Treasure Island, is a quintet from South Korea. The members comprise of vocalist Lee Hong Ki, bassist and vocalist Lee Jae Jin, lead guitarist and keyboardist Choi Jong Hun, guitarist and vocalist Song Seung Hyun and drummer Choi Min Hwan.
Watch their Hello Hello MV below!
The concert is organized by Square Roots Sdn Bhd. Tickets will go on sale from  Dec 9 at iLasso at 03-7957 6088, authorized iLasso ticket agents or Square Roots at 03-8023 4376. Online purchase is available at www.ilassotickets.com.
There is also an early bird contest for those who buy P1 and Rock Zone tickets. Fifty (50) lucky winners will be able to attend the 2012 Play! FTISLAND Concert in Malaysia Meet The Fans Event. For more information, please contact Square Roots at 03-8023 4376.