Lee Dong Wook and Kim Sun Ah in Malaysia!
Spaced out: Both Lee Dong Wook and Kim Sun Ah are thinking of Malaysia food.
After all, it's their  first visit to Kuala Lumpur!
Two of Korea's well loved celebrities Kim Sun Ah and Lee Dong Wook were in Kuala Lumpur on 6 December 2011 to promote their 16-episode Korean romance drama Scent of a Woman. You would have heard of the both of them if you are into the Korean drama scene, and their Malaysian fans were most excited to get a chance to meet them face to face.
AstroLive and ONE HD organized a meet and greet session, and selected Astro B.yond customers and contest winners were given passes to the exclusive event.
K-popped! was there too!
Before the Meet & Greet session started, media representatives were given a tango performance by dancers. There's also a much talked about tango performance in the drama by the leads.  [Is this a co-incidence now because there is a Hollywood movie of the same name, with a very famous tango scene too! -ED]
The pair also answered a couple of questions posted to them by emcee Jehan Miskin.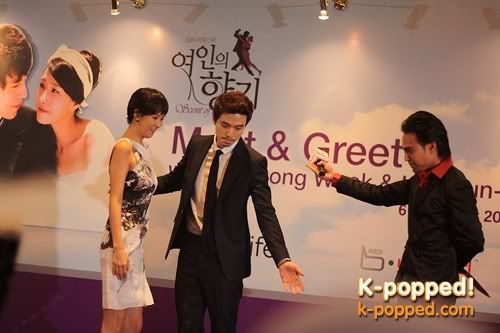 Who do you pick as your dance partner? Mr Jehan Miskin or me?
Lee Dong Wook offers Kim Sun Ah the choice…
When asked about her favorite scene in the drama, Kim Sun Ah said that it's going to be hard to choose only one when there are too many that she likes. However, the tango scenes were quite memorable to her because she got to share the experience with both actors in the drama, Lee Dong Wook and Uhm Ki Joon.
Lee Dong Wook replied to the same question by saying that his favorite scene is when Yeon Jae (Kim Sun Ah) and Ji Wook finally confirm their feelings towards each other.
Both of them hoped that "Scent of A Woman" will get good ratings in Malaysia and that the drama would be loved by many.
Catch "Scent of A Woman" every Wednesdays and Thursdays  at 9.05pm, on ONE HD (Astro B.yond Ch 393).

Doodling were always our favourite past time when we were young!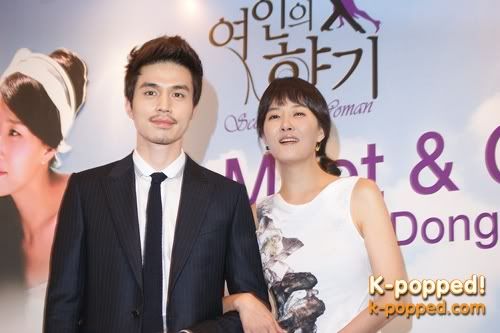 Here's one for the Malaysian album… 
Also read about the EXCLUSIVE INTERVIEW each of them gave the Malaysian media!
Interview with Scent of a Woman's Kim Sun Ah