Photos by Chodixxon
Fans of Alexander (Xander) Eusebio definitely had an unforgettably hot and sweaty night with the cutie pie on Dec 18 at the Cheras Leisure Mall (Outdoor), Kuala Lumpur.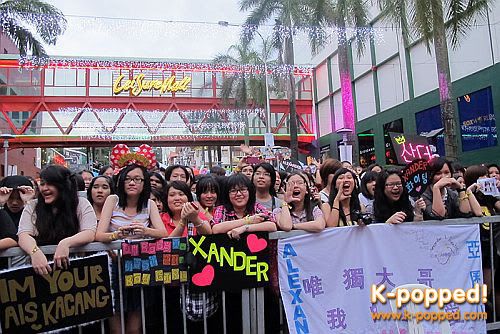 XANDERETTES: Girls who have the hots for cutie pie Alexander Eusebio
The showcase only kicked off at 7:10pm, but hundreds of Xanderettes (who claim to live in Xanderland and speak Xandernese) began waiting for their heartthrob as early as 4pm! Standing at 1.81m tall, the sight of this round-eyed, gorgeous Portugese-Chinese-Korean hottie was more than enough to melt every fangirl's heart (including yours truly :P).
Performing his first catchy number, Bad Girl, Xander rocked the stage to the deafening screams of (mostly) fangirls. When asked what his definition of Bad Girl was after the performance, Xander answered cheekily, "A bad girl is someone who's too good to be true."
BAD GIRLS: They make Xander go carayzee!
So, does that mean that Xander's into bad girls? How about good girls? "Good girls are great, but bad girls make me crazier," said Xander flirtatiously to more piercing screams!
The idol who is multilingual (he speaks seven languages) demonstrated his language skills by thanking his fans for all their support in Mandarin, Cantonese, Japanese, Korean, and English before singing a Mandarin hit number Jing Fei Dei Yi. He then switched to a Korean ballad "그 남자" (That Man) from the popular Korean drama series Secret Garden.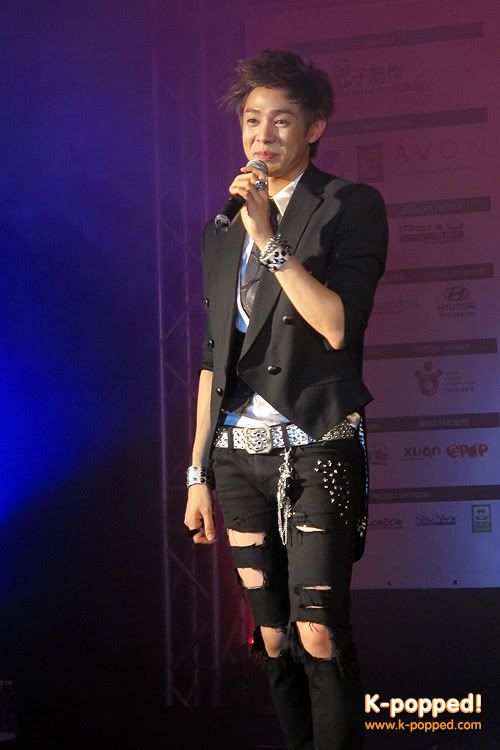 MULTILINGUAL: Xander speaks 7 languages…ah hah, but he still can't speak Swahili
During the five-minute interval, a "making of" the showcase video was shown. Fans screamed with excitement and laughed heartily as they watched Xander practising hard for the showcase and getting a facial with his mom.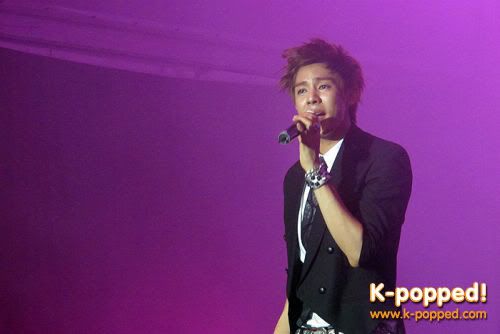 SINGER: Xander belts out a number, fangirls go ballistic
Xander reappeared clad in a black, white, and gold outfit complete with a rapper's chain around his neck. He launched into another dance number, Oh, Baby! (Korean version) much to the delight of Xandrettes as he showed them his sexy dance moves.
YO! YO!: An outfit change
When asked what was the hardest part performing alone (and not in a boyband like U-KISS), Xander said with a slight quiver that he was nervous about it since as a solo singer, he had to sing and talk to the audience, and ensure that they were entertained throughout his performance.
In response to his answer, Xanderettes lovingly cheered him on saying, "괜찬하! 괜찬하!" (It's all right! It's all right!).
SOLO: Xander learns to bask in his solo spotlight
Two games followed where three lucky fangirls were selected for each game. While waiting for the participants to make their way to the stage, Xander told the fans that he only expected half of them to turn up for the showcase. However, as soon as he got on the stage, he was touched by the overwhelming response from the fans, and thanked them profusely for their continuous support.
Both the games gave the lucky fangirls the opportunity to get close to Xander as they worked hard to prove their everlasting love and support for him. Everyone was a winner at the end of each game as the participants received a prize as well as a big warm hug from the cutie pie.
HUGGGS!: Lucky fangirl gets to touch Xander
One of them, Phyllis, who won the second game (in which she was asked to do a sexy body wave to Xander, and surprising did an amazing job!) could not hide her excitement as she jumped up and down several times on the stage when her name was announced as the winner.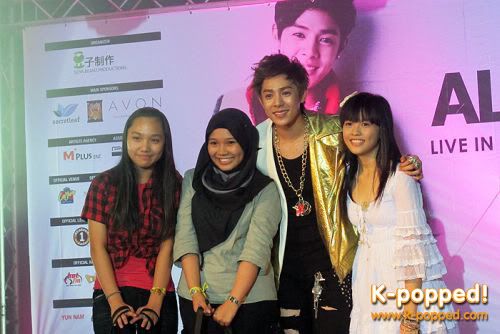 HAPPINESS: Being with my our fave guy
Before leaving the stage for an outfit change, cheeky Xander teased the fans saying, "Very hot-lah…hmm…do you guys want me to change here? Should I?", while lifting his shirt and exposing his abs. The fangirls went ballistic!
HAWT: 'I'm too sexy for this shirt…'
A video shout-out from fans from Indonesia, Mexico, Malaysia, and USA kept the fans entertained during another five-minute break.
Mariah Carey's Hero was played as background music for the video, which showed Xander's international fans leaving encouraging messages for him such as:
Walking down the memory lane
Hero – you're our favourite hero!
Alexander Lee Eusebio, we LOVE you a lot!
After the break, Xander reappeared on stage in a mostly black ensemble. He then belted out the English version of Oh, Baby! Fans were more excited this time as they were invited to sing and dance along to the song. This was soon followed by the premiere of Xander's new music video, I Just (English version). This song, according to Xander, was a special message to all his Malaysian fans who had given him all the love and support from the time he was in U-KISS to a solo singer at present.
MUCH FUN: Xander has a great time with his fans
Performing his last number, I Just (English version) in a purple jacket and lime green skinny pants, Xander continued to entertain the crowd. Soon after this song was over, naughty Xander teased the audience once again by pretending to thank them for supporting his showcase and by leaving the stage.
THANK YOU: For all the love and support, Malaysia!
Fans asked for an encore, and the K-pop darling returned to the stage with a special encore performance of Oh, Baby!, specially for his ardent fans. While belting out the hit number, Xander and his four male dancers gave out free posters to the fans.
The showcase ended at 8.20pm, and Xander returned to the stage 10 minutes later for the autograph session. All fans got the opportunity to be up close and personal with their K-pop idol. Each of them got their copy of Alexander's CD or calendar autographed.
HELLO!: Xander gives K-popped! readers some lurve!
Fans, unfortunately, were not allowed to snap any photos and shake hands with their idol during the session. Despite this policy, every Xandrette left Xanderland that night with dreamy eyes, smiling from ear-to-ear ;).
XANDERLAND: These Xanderettes never want to leave Xanderland 😉
Related: Alexander Eusebio's press conference in Kuala Lumpur