While there is an influx of foreigners making waves in K-pop these days (think 2PM's Nichkhun and f(x)'s Victoria), South Korean Lee Ji Hae (Twitter account: @blushjihae) is doing the exact opposite by breaking into the US market.
CROSSOVER: Jihae, along with the Blush girls, are making waves in American pop
Although she was part of the Top 30 in Superstar K — a South Korean talent show –she ended up debuting as part of the quintet called Blush. Yes, this lass who joined the talent contest without any formal vocal lessons or dance training is perhaps now, the envy of many Kpop stars.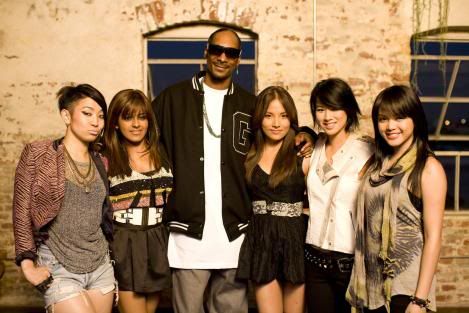 COLLABORATION: Snoop Dogg (third from left) with Blush: (l-r) Nacho, Alisha, Jihae, Victoria & Angeli
Blush is one of the latest pan-Asian, western-pop groups in town comprising of Alisha Budhrani (India), Angeli Flores (the Philippines), Victoria Chan (China), Natsuko "Nacho" Danjo (Japan) and Lee Ji Hae.
Formed in 2010, the group has released two singles to date. Undivided, the quintet's first single, which featured Snoop Dogg, reached #3 on the U.S Billboard Dance Charts.
In Nov 2011, the group unleashed another dance number, Dance On. The track placed at #16 on the U.S. Billboard Dance Charts in less than 2 months.
Curious about the group? Check out their latest sexy dance number below. Very Pussycat Dolls-esque.
Are you Blush-ing yet? If you are, then drop by the group's official site: Blush Band or official Facebook page. You can also follow them on their official Twitter account.