F.T. Island brings the house down at 2012 PLAY! Concert in Malaysia
Photos by Fizzy
F.T. Island gave K-pop music fans a night to remember. The bona fide band showed their versatility during their first solo concert in Stadium Negara on Jan 14.
Whether it was pop rock or hardcore rock tracks, the guys – five treasures indeed! – brought the house down.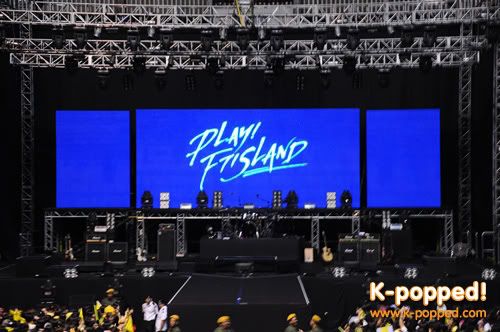 PRESS PLAY!: FTISLAND is in da house!
Lead vocalist Hongki (21) was solid throughout the 2-hour show. Whether he was bouncing around on stage or sitting on a high stool, he sounded awesome.
SOLID: Lead singer Hongki has a great set of pipes
Leader of the group and guitarist Jonghoon (21) was remarkably skillful with his guitar…making him extremely sexy. So was Minhwan (19), the little drummer boy who is all grown up, and who reminds me so much of Rain.
Bassist Jaejin (20) was impressive as he sang while playing the bass while Seunghyun (19) whipped the crowd into a frenzy whenever he rapped.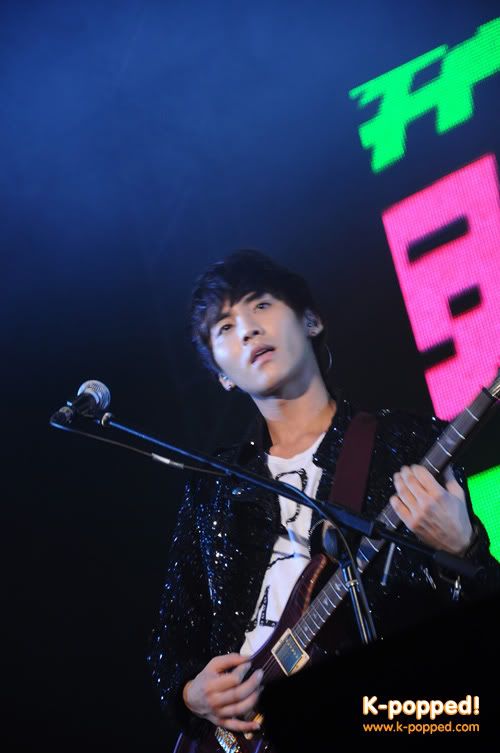 RAPPER CUM GUITARIST: Seunghyun tries to remember his rap verses
There were no minus one tracks, lip syncing or synchronized dance routines (not that we are complaining about that) throughout show. The F.T. Island guys entertained with pure, unadulterated live music, and it was amazing!
PLAY!
Without an opening act or much fanfare, F.T. Island strolled onto the stage at 8:32pm like a boss ;).
The guitarists strapped on their guitars, the drummer seated himself comfortably and before you could say "2012 PLAY! F.T. Island Concert in Malaysia", the band launched itself into its first popular track I Hope.
HAPPY: Primadonnas — fans of FTISLAND — having a blast
That got the crowd warmed up pretty good. It was then followed by the fun track Bing Bing Bing. The band's frontman Hongki, who speaks limited English, then got the Primadonnas (fans) to sing along to the next track entitled A Handsome Guy & A Beautiful Girl.
F.T. Island continued to raise the temperature in the stadium with their popular numbers such as Hello Hello and Love Love Love. They then went ballistic onstage with their Japanese rock numbers namely Life, I Want and Let It Go. Yup, it was time to head bang with the guys. Woot!
SEXAY!: Jonghoon makes hearts melt with his guitar god antics

Guitarist Jonghoon showed off his mad skillz with so much panache and charisma. The ladies in the crowd were unquestionably spellbound. After ending on a high note with Flower Rock, F.T. Island took a short break.
COOL
The crowd was entertained by a video of the guys during the break / costume change. The vid showed what each guy does when he is not performing.
The band then returned for an unplugged session. Sweet!
With the all-grown-up-and-looking-like-Bi Minhwan on percussion, the guys serenaded the crowd with their slow tracks, kicking the set off with the beautiful and memorable Sunshine Girl. They followed that up with Confession and a later, a Kpop oldie.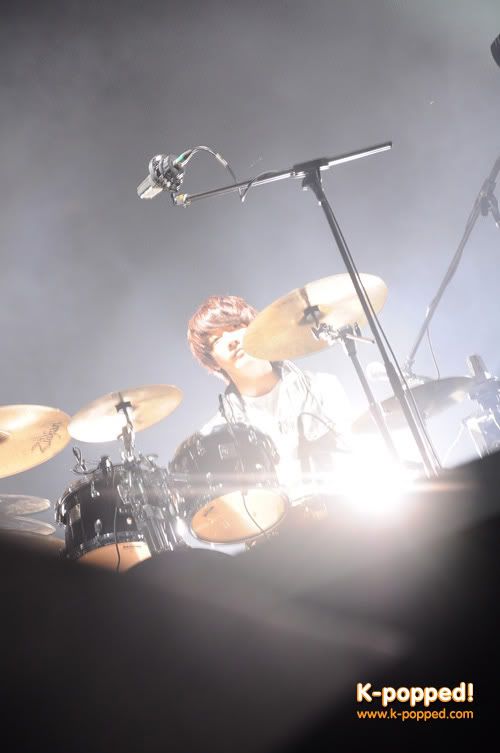 IS THAT YOU, RAIN?: Minhwan bangs away at the drums
"Do you know old Kpop songs?," Jaejin asked in English. "There are many gorgeous songs," he said before the band sang Even Your Tears.
TEMPERATURE RISING
F.T. Island heated things up again with the popular Bad Girl before performing the song that won them first place on Immortal Song 2, The Man From Shinsadong (watch the winning TV performance here).
(Immortal Song 2 is a singing competition where Kpop idols of today showcase their interpretation of Kpop golden oldies. It is being shown on the KBS World network.)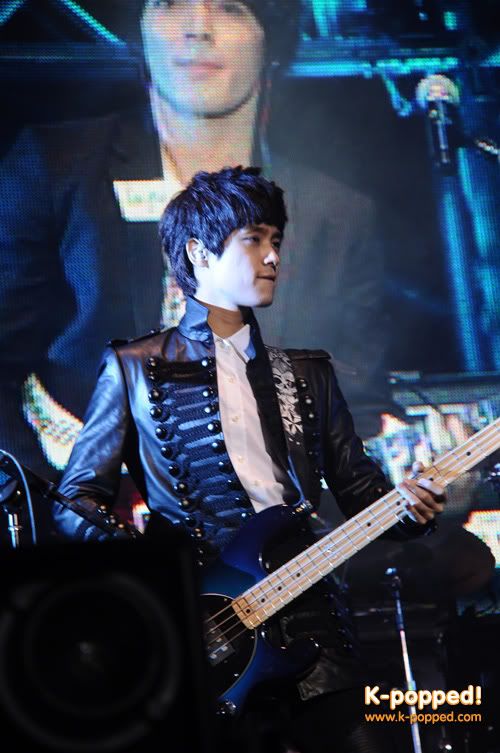 SUPER BASS: Jaejin hits the right notes
The band then blazed through the rest of their set. During the head bopping Don Quixote's Song, Hongki who wanted to communicate (badly) with the fans said: "Ah…thank you. I can't speak English."
It's OK Hongki, we were so entertained by the band's music and showmanship. Communicating with us would have been the icing on the cake, but we could do without that for this show ;).
Minhwan was then given the mic to introduce the last song. He said in English, "I hope we can meet again in the future. I will not forget a single moment today." The drummer then introduced Primadonna.
ENCORE!
Dressed in their official PLAY! concert t-shirts, F.T. Island returned to the stage. There was a cute little struggle with English when Hongki attempted to ask the crowd which song they wanted to listen to. Jaejin found the words for him and Hongki was extremely happy.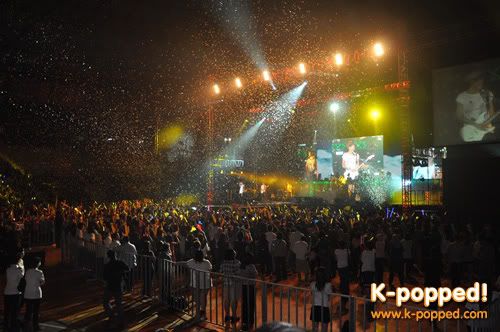 CONFETTI SHOWER: Signifies an evening of good live Kpop music coming to an end 🙁

The band then sang Love Sick and Until You Come Back – their older hits. All too soon, F.T. Island performed their closing number – the uplifting Like the Birds.
LOVIN' IT
F.T. Island put on an impressive show indeed. The talented guys are undeniably precious and their attempts to communicate with the fans are very much appreciated.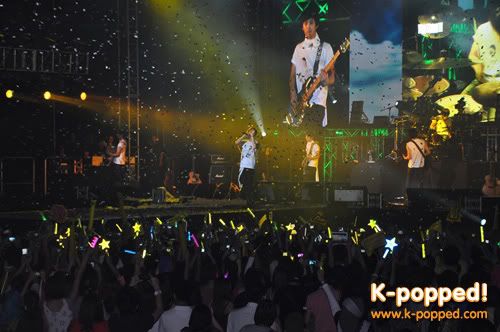 FTSLAND: Five-Treasured guys indeed!
Primadonnas and K-pop music lovers alike are grateful for such a successful concert by F.T. Island. The first time they came to Malaysia (2008), the show was called off at the very last minute.
We got a small dose of the guys when they were part of the Korean Music Wave 2011 ensemble last September.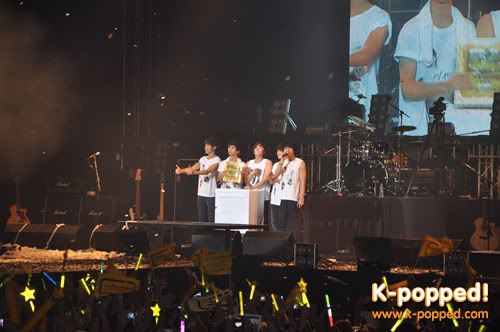 THANK YOU!: We love you. Please come back.
Jan 14th, 2012 will be a day to remember as F.T. Island finally got to fully showcase their talents. What a wonderful start to K-pop music in Malaysia for 2012!
F.T. Island we would love to watch you perform live again. Thank you for a great evening of live K-pop music.
끝
Song list:
I Hope
Bing Bing Bing
A Handsome Guy & A Beautiful Girl
Hello Hello
I Will Get You
Love Love Love
Life (Jap version)
I Want (Jap version)
Let It Go (Jap version)
Flower Rock
Sunshine Girl
Confession
Even Your Tears
Bad Girl
The Man from Shinsadong
Will Love All
You Are Smiling Like a Doll
Don Quixote's Song
Troublemaker
Primadonna
Encore:
Love Sick
Until You Come Back
Like the Birds
Related: FTISLAND holds press conference in Malaysia on Jan 14