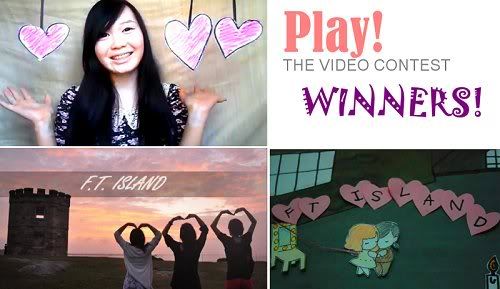 We are so impressed by the quality and number of entries we got for Play! FT Island Video Contest. Although we only gave you eight days to submit your 30 second video entries, we got a total of 43 entries! Besides lip syncing and dancing to your favourite FT Island songs, we had some who played the violin, guitar and piano. Some even went on location, and conducted a special project just to get that 30 second footage.
Although we would love to give out more tickets, fact remains that we have THREE pairs of Rock Zone tickets to the Play! FT Island concert in Malaysia on 14 January 2012 to give out, courtesy of SquareRoots Sdn Bhd.
Without further ado, here are the three winners in no particular order * drum roll please *
THE WINNERS!
(Winners, please e-mail your full name, snail mail address and mobile number to orchid.shoppe[at]gmail.com a.s.a.p.! Please ensure that there's someone at home or at the office to sign for the package. We will courier the tickets to you.)
Kpopped! Play! FT Island video contest – Like The Birds
By Fiona Wan (PeaChickPea)
Why we like it? Filmed on location with a beautiful sunset backdrop and wind blowing in hair glamour shot. You took the effort to go on location and we even forgive you that one of you were holding a guitar case instead of a real guitar. The best part is the three of you looked like you had so much fun making the music video. Love the ending shot. Congratulations!
FT ISLAND Love Love Love – Mightynoona
By Aisya Yusof
Why we like it? We simply love the very creative stop  motion animation. Watch it to see how much work went into creating the 30 second clip. Congrats!
Love Is (from the Antique movie soundtrack) – FT Island
By Shasha_rawk
Why we like it? We think this video is MTV quality. Cute girl, lip-syncing perfectly. Love the perfectly timed cardboard cut-outs dangling from above. Congratulations girl!
HONORABLE MENTIONS
Although you didn't win, we think you did a great job with your video and deserve a mention. To the rest who did not get a mention, thank you for your submissions – we appreciate all of them. We also understand that for some of you, it was your first time filming yourselves or cutting a video. Hope you had fun!!

The Golden Triangle FT Island video project
By Jolenefsw & friends
Why? The effort it took to go to the streets for this project.
Grace (love4FTISLAND)
Why? Sweet voice, singing the song with creative English translation placards.
Young Jason Yong singing
Why? He does it accapella, without music

Play! The video Contest — The One (ayahanuna)
Why? Creative use of placards. Read the hangul!
Disagree? Which video is your favourite? View the complete entry list in the comment section of this entry:
http://k-popped.com/2011/12/play-the-video-contest-win-ft-island-concert-tickets/