B.A.P & Secret on The MTV Show
The MTV Show will feature B.A.P and Secret in its latest episode, set to go on air on March 31st in Malaysia.
Tune in to catch B.A.P. talking about which Singaporean dish they can't wait to try, and Secret's…err, secret on how they stay in shape.
PEACE!: B.AP with VJ Rich
B.A.P will also be teaching VJ Holly the dance moves from their debut song Warrior while Secret gets VJ Rich to try their snazzy Shy Boy routine. On top of that, B.A.P will showcase their talents in freestyle beat boxing and break dancing!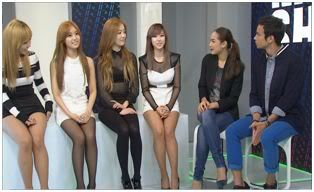 INTERVIEW: The MTV VJs chatting with Secret
This particular episode premieres on The MTV Show at 2pm on Astro channel 713 on March 31st. Replays are on every Saturday (1am & 10pm) and every Tuesday (midnight).