Is your skin sensitive and hot ?
If it is, The Face Shop might just have a remedy for you. The leading Korean beauty brand has launched a series for those with sensitive and heated skin. It is called the Arsainte Eco-Therapy Crystal Water series.
What do these products contain that is so good for your skin?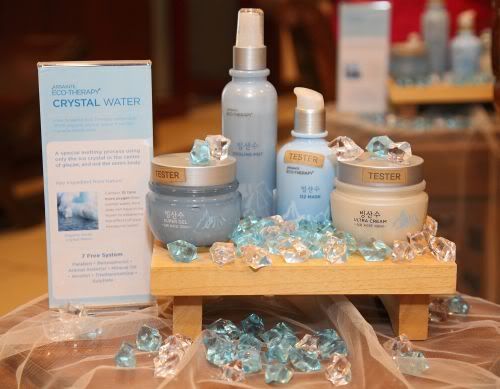 COOLING & MOISTURIZING: The Crystal Water Series from The Face Shop
The products in the series contains 100% organic crystal water from the North Pole. Not only will it quench your skin's thrist, it will also soothe it by cooling it down. Sounds like the perfect combination especially for skin exposed to our local weather.
The moisturizing line is made up of FOUR (4) products:
Crystal Water Super Gel (100ml) – RM89.90
Effective hydrating agent makes tired, stressed skin dewy and moisturized
Provides soothing and relaxing effects to the skin, making it beneficial for sensitive, sunburned, and sun-exposed skin
Cooling sensation also tightens pores
Crystal Water Ultra Cream (100ml) – RM89.90
Supplies moisture directly to the skin
Water-binding agent keeps moisture all day long.
Alcohol-free formula good for those even with sensitive skin
Crystal Water O2 Mask (50ml) – RM69.90
Delivers oxygen to stressed, dull skin and adds glow and luster to complexion
Once applied, oxygen bubbles enable you to massage into skin very gently
Brightens skin instantly, exfoliating dead skin cells
Calms and relaxes heated and tired skin
Crystal Water Cooling Mist (130ml) – RM59.90
Delivers an intense moisture surge and improves hydration
Cools heated skin with crystal water formula
You can pick up any of the products above at your nearest The Face Shop outlet. Let us know how if it works for you :).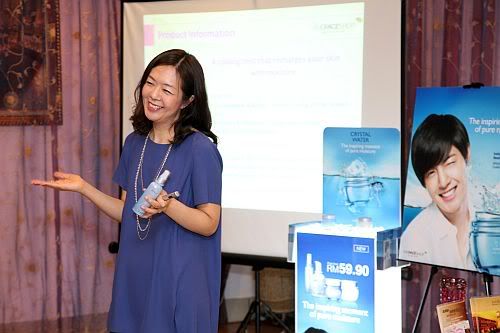 SILKY SMOOTH SKIN: Stella Kim (above), Assistant Training Manager of THEFACESHOP Korea, at the Malaysian launch of the Crystal Water series on March 5