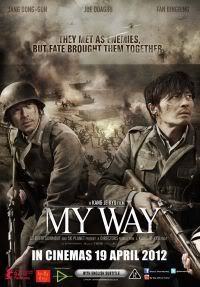 Korean title: 마이 웨이 (Ma-i-wei)
Director: Kang Je-kyu (강제규)
Screenplay: Kang Je-gyu (강제규), Nah Hyeon (나현)
Cast: Jang Dong-gun (장동건), Joe Odagiri, Fan Bing Bing
****/5
What's popping:
War movies. They always make you think. When everything is fine and dandy, a person can fight tooth and nail for what he believes in. But when all hell breaks loose in a war zone, core values and beliefs change. Enemies become the best of friends…and sometimes, vice-versa.
The protagonists in this war movie is Kim Jun-shik (Jang Dong-gun) and Hasegawa Tatsuo (Joe Odagiri). The two men grew up together, but soon went their separate ways. However, their destinies become entertwined again during World War II.
Jun-shik's only dream is to become a marathon gold medalist but as things turn out, a rigged competition forces the Korean to join the Japanese army and fight in the war (horrors!). He then crosses path with Tatsuo when the latter becomes the Colonel of his battalion.
It is interesting to see the pair's love-hate relationship…and how pure a character Jun-shik really is. When Tatsuo had the upper hand, he was merciless and cruel. Yet Jun-shik — with all his anger against Tatsuo — still regards the Colonel as a friend.
EXTREMIST: 'Dude, I said my nose itches and I can use my fingers to scratch…put the gun away.'
The pair find themselves in the same boat when the Soviet Union army defeats their battalion and drags their butts off to a POW camp. Now on level ground, true humanity — the kind that transcends borders and nationalities — shows itself.
Jang Dong-gun reunites with Taegukgi: Brotherhood of War director Kang Je-kyu in this flick. IMHO, the 2004 Korean blockbuster was more moving…perhaps it was because the ties between the characters run deeper in that film.
Nonetheless, My Way still makes an engrossing watch. One really wonders how true the story is (it is "loosely" based on true events), seeing soldiers traded from one camp to another as opposed to being gunned down instantly.
Joe Odagiri portrays the merciless Tatsuo well. To a certain extent, he effectively takes you through the transformation of his character. However, it is somewhat a let down when it came to that pivotal moment when the ruthless Tatsuo had to decide between death and serving the enemy.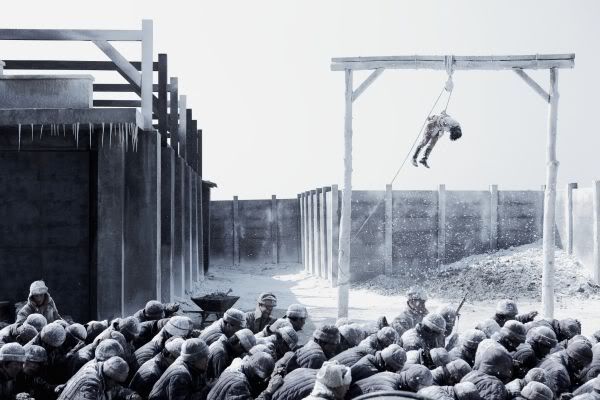 HANGING: 'OK fellas, now that we know which way the wind blows, please let me down.'
Fans of Fan Bing Bing may be a little disappointed as the Chinese actress has little screen time as sharpshooter Shirai. All hopes for a blossoming romance between Shirai and Jun-shik (or even Tatsuo, heh heh) is dashed. Expect some bromance instead.
To make watching My Way a "K-pop" experience, watch out for Nicole Jung's (of girl idol group KARA) brief appearance.
On top of that, do expect a fair amount of "chicken and duck" talk as the film is very multi-lingual. There are dialogs in Japanese, Korean, Mandarin, Russian and German with Bahasa Malaysia, English and Korean subtitles (phew!).
The plot:
Set in World War II, My Way is a story that shows how an extremely overwhelming situation changes the fate and lives of two protagonists.
The flick starts with an uneasy friendship between two children. One is Tatsuo, the grandson of a high-ranking Japanese officer, the other is Kim Jun-shik, the son of the Korean family that serves them.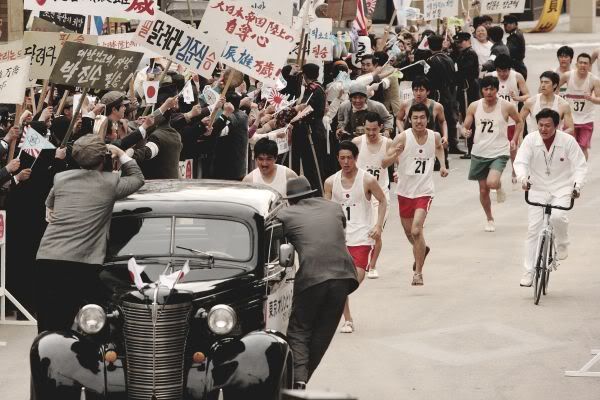 STAMINA: 'The last one to reach the finish line is a rotten egg!'
While growing up, the two boys were always competing against each other. Jun-shik's only dream is to become the next Sohn Ki-jung — a Korean gold medalist marathoner. Meanwhile, Hasegawa Tatsuo happens to be Japan's top marathon runner.
Tension between the two families takes a turn for the worse when Tatsuo's grandfather is murdered. The blame falls on the Korean family and they are banished from the Japanese household.
KEEPING WARM: 'We're trading places once we round that corner over there, aite?'
Jun-shik and Tatsuo's separate paths cross again when World War II sees the men fighting side by side. Their journey takes them from Japan to the Soviet Union and Germany before finally arriving in Normandy (France).
Watch it:
My Way will be released in local cinemas on April 19, 2012.