The idea for My Way was birthed from a World War II photo. It shows a small asian man clad in a German army uniform. It was reported that the man survived a 12,000 km journey across the battlefields before ending up in France. He was a Korean.
My Way, South Korea's World War II movie revolves around frenemies Kim Jun-shik (Jang Dong-gun) and Hasegawa Tatsuo (Joe Odagiri). As soldiers, the pair finds themselves donning many different military uniforms while fighting in the war.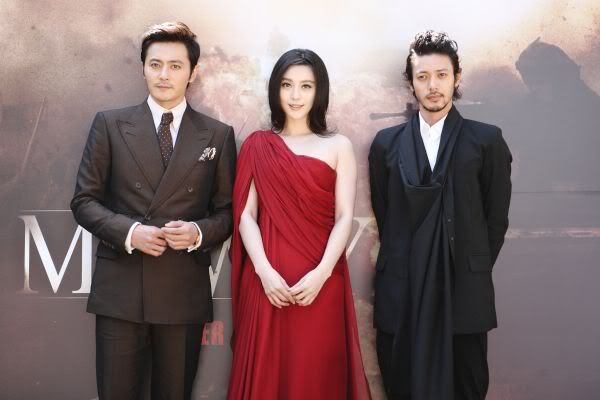 FRENEMIES & A LADY: (l-r) Jang Dong-gun, Fan Bing Bing & Joe Odagiri
They went from fighting for Japan to the Soviet Union, Germany and eventually France. The film is said to be "loosely" based on a true story of a Korean man who survived a 12,000 km journey across the battlefields; ending in France.
In the movie's production notes, it is reported that the film is inspired by a photograph of an East Asian man found among German prisoners after the Allied's victory at Normandy. We think it is the picture below.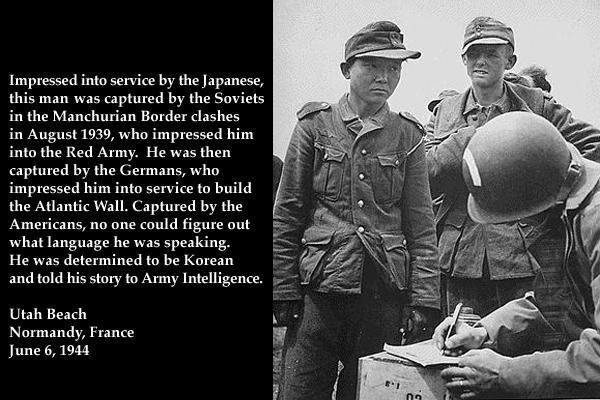 Pic source: http://www.militaryphotos.net/forums/showthread.php?161830-Asian-Wehrmacht-Nazi
The story behind the photograph moved and shocked My Way's director Kang Je-kyu after it was highlighted in a TV documentary in South Korea.
During the 2011 Busan International Film Festival, Kang said: "I received the original scenario four years ago. I then watched a three-episode SBS documentary on the same subject which made me unable to sleep. So, roughly two and a half years ago, I made the decision to direct the movie myself."

EXPRESSIVE: Director Kang Je-kyu (left) and his My Way cast talk about the movie
The film's budget is estimated at a whopping RM77.3mil and it took Kang three years of writing and eight months of pre-production before shooting began in Oct 2010.
The cast is toplined by none other than Jang Dong-gun (Korea) and Joe Odagiri (Japan) with Fan Bing Bing (China) portraying a smaller role.
JAPAN & KOREA: This one's a good collaboration
Jang reunites with Kang after the pair's extremely successful run at the box office with Taegukgi: Brotherhood of War (2004). The chance to work with Kang again sealed Jang's decision to film another war movie.
"After Taegukgi I thought I couldn't do another war movie. What else could be said about war?" said Jang. "When I learned Kang Je-kyu would direct the movie then my decision came easily."
My Way challenged Jang to express himself in Japanese. "Joe Odagiri helped me a lot," said the 40-year-old about scenes with the Japanese actor. "Odagiri is an actor who thinks deeply and has firm thoughts as an actor… so we are on the same wavelength."
FASHION SENSE: It's so obvious that Joe Odagiri loves 'em boots
Meanwhile, Odagiri also thinks highly of his South Korean co-star. "While acting together I could tell he was also considerate. I felt we understood each other well.
"If I were a woman I would have a crush on him," said the 36 year old.
Opera star, Andrea Bocelli, lends his voice to the film's soundtrack, To Find My Way. Composed by Lee Dong-jun, the song is played during the credit roll.
Read K-popped!'s My Way review here. The film will be playing in Malaysian cinemas on April 19.
MY WAY IN SOUTH KOREA: Actor Kim In-kwon (left), who portrays Lee Jong-dae, with the main cast of the movie. Check out Joe Odagiri's boots…again!