Get ready Los Angeles! Season 3 of MBC Star Audition is coming to your town pretty soon!
The LA audition will be held on Aug 12 (Sun) at the Ebell of Los Angeles: Wilshire Ebell Theater (743 South Lucerne Blvd. Los Angeles, CA 90005).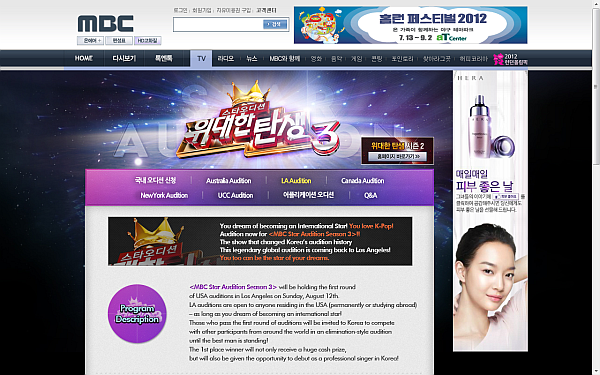 BE A STAR: If you've got talent, let it shine 😉
For those who are still unfamiliar with MBC Star Audition, it is one of the Korea's most celebrated singing competitions. Contestants are selected from all over the globe to compete for a cash prize and a chance to debut as a pop singer in Korea.
Contestants who pass the initial audition phase will be flown to Korea in September to compete against other finalists for the grand prize — an opportunity to become an international singing sensation. Besides that, finalists who travel to Korea will receive mentoring from notable K-pop celebrities. Last season, singers such as Lena Park, Sun-Hee Lee ("Korea's Sweetheart"), and K-pop composer Yoon Il Sang (one of Korea's most famed producers) participated in the mentoring process.
The interesting part is, the auditions are open to anyone, with no age, gender, or ethnicity requirements – the only prerequisite is that contestants should be able to sing at least one song in Korean.  However, it is not necessary to sing the Korean song with perfect fluency.
As the competition progresses, finalists will be performing live to thousands. It's certainly a once-in-a-lifetime opportunity to make one's dream come true!
On-line applications are available at MBC's website.
The deadline for application is Aug 11. However, walk-in applicants on the day of auditions are welcome as well.