Photos by Orchid
On Aug 25, a few of the K-popped! crew got together for food sampling at Namoo on the Park. The cafe's Managing Director Kim Sung Yong, played the perfect host.
Apart from learning how the Korean dessert cafe & bistro came about, we also got a taste of the sumptuous fare.
The food and drinks offered at Namoo are certainly right up our alley. The drinks especially, are not too sweet (you don't need to remind the waiter for "kurang manis") and are extremely refreshing. The cuisine at Namoo is certainly tasty yet…healthy.
HELLO!: The tree mascot of Namoo welcomes you (Note: Namoo means tree in Korean)
Without further ado, here are what we — namely Orchid, Valerie & I — had on that wonderful Saturday afternoon:
Main courses
Bulgogi Beef Taco (RM19.90)
The popular bulgogi — thinly-sliced beef marinated in soy sauce — comes wrapped in a warm tortilla. The dish is also served with a side of kimchi, mixed vegetables and potato wedges.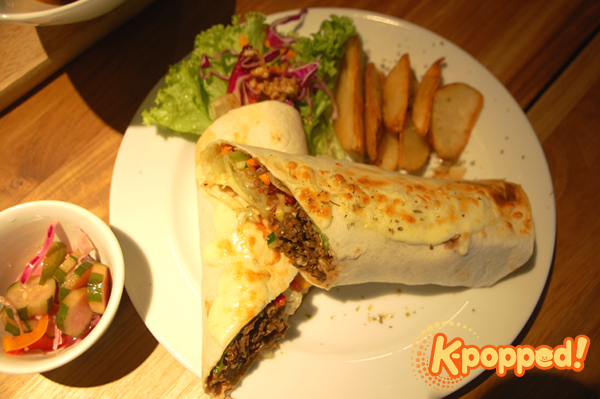 On the day we were there, the kimchi of the day was made of cucumber. According to Sung Yong, the kimchi varies from day to day.
This is a fusion dish where the sweet and savory goodness of Korea is deliciously wrapped in a delectable taste of Mexico!
Bibi Rice Burger (RM19.90)
Currently the cafe's best-seller, the rice burger is a fusion of East meets West.
Grilled chicken breast is covered in bibi sauce (the sauce in bibimbap) and sandwiched between handmade grilled rice buns. The dish is also served with a side of kimchi, mixed vegetables and potato wedges. Heavenly for people who like me, must have a rice dish every day…if possible.
Specialty
Mat Tang (RM14.90)
This honey glazed sweet potato dish is street food in South Korea. However in Namoo, the Mat Tang becomes a specialty snack that contains a mix of glazed sweet potato, pumpkin and tteok (Korean rice cake) topped with Yuza-glazed nuts.
It comes with yuza marmalade so if the dish is not sweet or tangy enough, you can dip it in the marmalade.
My personal fave in this mix is the tteok. It is sweet and mildly crisp on the outside, and the chewy tteok texture makes it a delight on the palate.
Desserts
Sweet Potato Cake (RM9.90)
A blend of sweet potato and nut served with vanilla ice-cream. Since we also had the Sweet Pumpkin Cake, we can make comparisons of the two, and this is clearly the winner!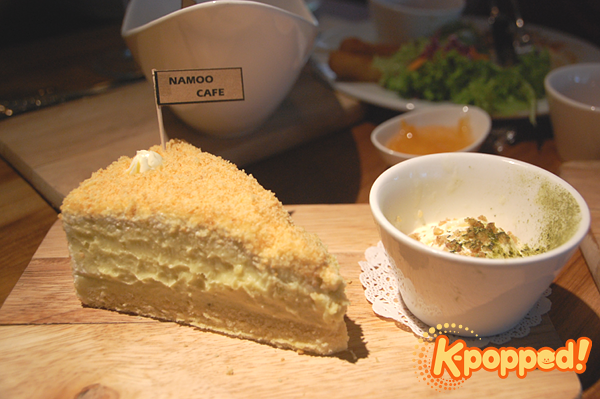 To us, the blend of sweet potato and nut is light and went down very well with us…especially Orchid & Val who both demolished the cake.
Sweet Pumpkin Cake (RM9.90)
A blend of pumpkin and tofu served with ice-cream on the side. This one is a little more dense than the Sweet Potato Cake.
The blend of pumpkin and tofu is similar to the paste in mooncakes. Yes, it can get rather "heavy" on the palate.
Drinks
Yuza Smoothie (RM12.90)
A mild citrus drink that is refreshing. The Yuza (or yuzu) orignates from East Asia, and is one of the ingredients that has to be imported to Malaysia. The smoothie has a light citrus-y taste without being too tangy or sweet.
Milky Hwa Cha (RM9.90)
According to our friendly host Sung Yong, this drink can be found in nightclubs in Seoul. For those who prefer not to indulge in alcohol, they can opt for the milky hwa cha to quench their thirst.
In the cafe's version, this milk-based watermelon juice contains fresh watermelon and banana. A healthy and thirst-quenching concoction indeed.
Namoo Fruit Water — Peach (RM7.90)
For those who love peach in their drinks, this is definitely for you. This peachy mix comes with peach ice-cubes as well!
Peach slices are frozen in ice cubes and popped into the drink. As the ice melts, the fruit becomes available in your drink.
THIRST QUENCHERS (from left): Namoo fruit water, Yuza Smoothie & Milky Hwa Cha
All the drinks above are mostly naturally-sweetened. The sweetness comes from the fruits themselves.
As Sung Yong pointed out, Koreans are health conscious people and the ladies make it a point to keep themselves slim. And that, friends, is clearly reflected in its cuisine.
좋아!: The K-popped! Crew says yes to Namoo On the Park 😉
Have you been to Namoo on the Park? Tell us which dish is your fave and why!
Namoo on the Park — Korean Dessert Cafe & Bistro
Address: Publika, Level G3, Lot 4A, Solaris Dutamas, No. 1 Jalan Dutamas 1, 50480 Kuala Lumpur
Opening hours: Monday – Sunday, 11am – 10pm
Telephone: 03 – 6411 6698
Facebook: https://www.facebook.com/namoocafe
Pork-free
Also read: Namoo on the Park at Publika