Tahiti to sizzle in the Philippines
Tahiti is one of the newest girl groups to hit the K-Pop scene under Dream Star Entertainment and is also one of the acts performing in the Dream K-Pop Fantasy Concert in Manila on January 19th. We learn more about the group and the individual members of Tahiti during the Press Conference for their first concert overseas ever!



TAHITI (from left to right): Misu, Minjae, Jisu, Jinhee, Ari, Jungbin
So, let's start by getting to know the girls a little better! Tahiti comprises of…
1. The girl-next door, Misu (who slightly resembles a younger Yoona)
2. The sweet Minjae, (who slightly resembles a younger Yoobin)
3. The cute squirrel, Jisu
4. The dancing maknae, Jinhee
5. The funky and cute, Ari
6. The sexy and elegant fox, Jungbin

The girls from Tahiti, answering questions from the floor.
First time in the Philippines for you girls, how do you feel?
Jisu said it feels good to be in a tropical country with so many coconut trees in sight, away from the cold weather in Korea. They are all enjoying themselves so far! When asked if there is anywhere in particular they would like to visit, Minjae brought up Cebu. Jisu then pointed out that anywhere else with beautiful beaches will be good.
The girls are also very excited of the prospect of performing alongside so many other great acts for the DKFC and promised to showcase their talents and worth the next day.
Well, speaking of other idols, which senior idols do you all look up to?
Jinhee said that BoA is who they admire the most as she gives such strong and wonderful performances and commands the crowd as a solo artist. They all agreed that she is the perfect artist in K-Pop.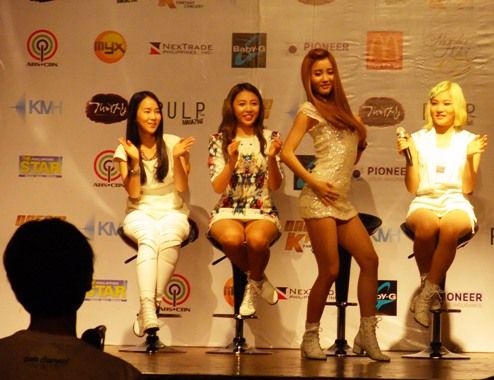 Jisoo turning the heat up in Manila!
The girls ended the press conference by revealing some interesting talents, as requested by a fan. Ari sportingly did a bridge while Jee actually gave a pretty good imitation of 2ne1's Park Bom, by singing a short snippet of "Can't Nobody". Jisoo also performed a short, sexy dance.

Tahiti with flowers from the fans.
The members of Tahiti look forward to being able to perform in front of the crowd in Manila and thanked everyone who has welcomed them warmly so far, despite being a rookie in the industry. We say all the best with the road ahead, girls!