Guess who is back?
U-Kiss was in Philippines for the FOURTH TIME and will be one of the acts head-lining the Dream K-Pop Fantasy Concert in Manila. K-popped! was fortunate enough to attend the press conference where they talked about Filipino Kiss-Mes, their comeback, cheesecake and making chocolates!



"Hello, we are U-Kiss!": Soohyun, Kiseop, Eli, Kevin, Dongho and Hoon were present at the Press Conference to promote the Concert as well as to meet the local media and fans.
Do they miss the Philippines?
Why, of course they do?! Kevin mentioned that he missed their fans since they have not been able to visit the Philippines for a while now. He also missed Filipino food and has yet to sample anything this time around as they have just landed not too long ago. Despite that, he still manages a "mahal kita" (I love you") when asked if he remembers any of the local phrases. Additionally, Kevin said he feels that there is a special connection between U-Kiss and their fans here because the country is where the group had their first major solo concert, "U-KISS First Kiss Tour in Manila". Kevin also mentioned that the group hopes to return for a "Second Kiss Tour".
Eli was also glad to be back adding that he is happy to enjoy the warmer weather in the Philippines. He realises it is the cold season here but it is much colder in Korea now!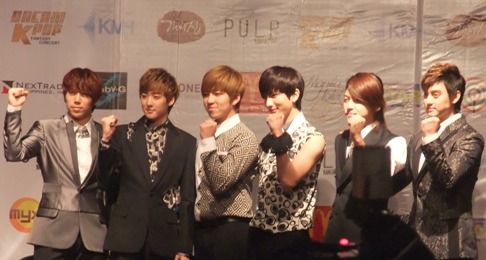 U-Kiss all pumped up for DKFC!
What does Hoon feel about being in the Philippines for the first time?
Hoon shared Kevin's enthusiasm and was excited to see so many fans as it is his first visit to the country. Besides that, he was excited to show off his best side at the concert.
How different is U-Kiss from the last time they were in the Philippines?
Eli stated that there has been a lot of growth, evident especially in DongHo, who is now officially an adult ("and is able to legally purchase alcohol now", Kevin jokingly pointed out)! Adding to that, although AJ is now studying in America, the members have been able to spend more time together and bond with one another.
SooHyun also mentioned that they have been touring quite a bit and definitely matured, "hopefully it will show during the concert to be held on January 19th". Moreover, U-Kiss is in the midst of recording for their comeback set for March! Hence, fans will be able to gauge their changes then.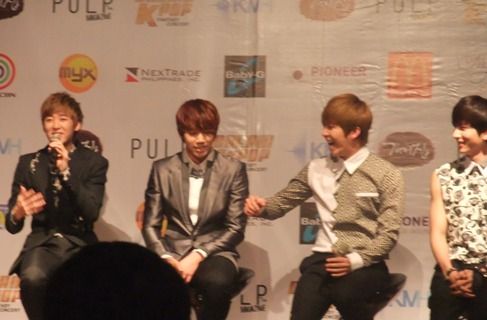 Hoon, you are a cheesecake!
Fan Question: If you are able to describe the person to your left as a dessert, what would it be?
Kevin: Well, Hoon is like a cheesecake. Soft, gentle on the mouth (whoops, just gentle, I mean), easy-going and generous!
Hoon: Soohyun is chocolate! Because his voice is sweet and velvety, just like chocolate, especially when he sings!
Soohyun: I would describe Kiseop as a strawberry; sweet and sexy! (But Soohyun, strawberry is a fruit, dear.)
Kiseop: DongHo is like soft ice-cream because his hair (particularly since it is all grown out now) and his eyes/stares are very soft!
DongHo: *contemplates* Eli is like coffee because he is addicting and handsome. Similar to the unforgettable aroma of a good coffee, Eli is unforgettable as well, once you have met him.
Eli: Wow, thank you, Dongho! I would say Kevin is like apple pie because when it is baked, it is very sweet and warm, just like Kevin. A very sweet and warm-hearted person.
Before you go, any messages for fans for the coming Valentine's Day?
DongHo cheekily says it would be great if Kiss Mes make chocolates for him! As much as he would like to spend the V-Day with all their fans, he couldn't. So, he reckons the best way fans can celebrate the Valentine's Day would be to spend time making chocolates for him and then enjoying them while thinking about U-Kiss. That way, the fans and U-Kiss will be in each other's hearts. Can we get a "awwwwwh"?

The members thanking the fans for the warm welcome, continuous support and flowers!
Last but not least, do they have any advice for aspiring artistes?
"Work hard and don't give up," says Soohyun. Wise words indeed. Soohyun thinks it is important to continuously exert your effort into something that you love doing and to keep following your dreams!