[Travel] Shin-Okubo: Little Korea In The Heart Of Tokyo
While most of us K-pop or K-drama lovers dream to visit Korea in some other way to see Kimchi-land with our eyes, a little paradise can be found even in the heart of Tokyo. Yes, you read that right, TOKYO!
Just a stop away from the world's busiest train station, Shinjuku Station, is a bustling enclave named Shin-Okubo, which is the Korean town of Tokyo. Once you get off the train, signs in Japanese, Korean and English greets your eyes.
But the most intriguing thing about this place is that even Korean dramas which will be aired on Japanese television stations are advertised at the train station here. So much Korean overload already!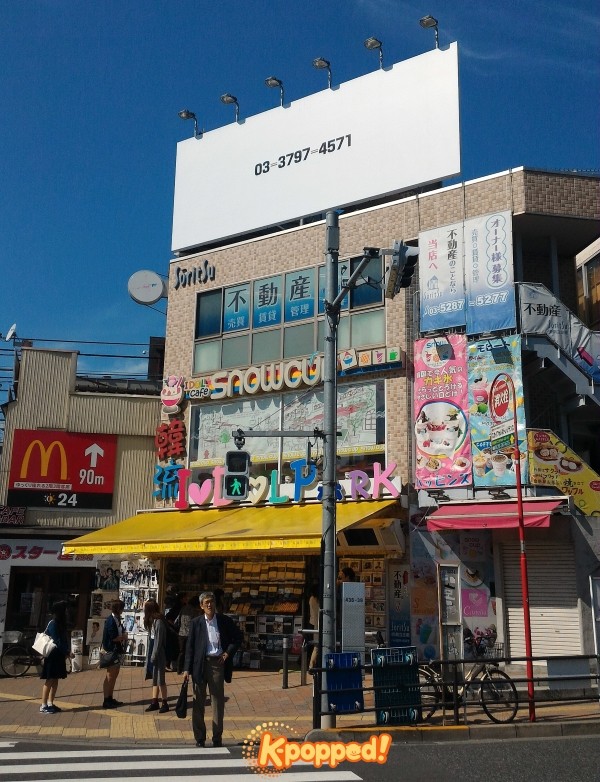 Once you exit the station, walk to the right and you will see Idol Park on your left. Yes, you are officially in Korean town! Eyes on the road please, you don't want to be knocked down by a cyclist while drooling at those K-pop goods on sale!
As you walk on, the smells and sounds (K-pop hits of course) will instantly transport you to South Korea, though you are physically in Tokyo. Definitely must try the delicious fried chicken!
Not to mention, Korean skincare brands also have a great presence here. Holika Holika has the only stand alone store in Shin Okubo, whereas other brands can be found in K-Plaza 2, or smaller cosmetic stores.
Below is a scene at a Korean cosmetics store in Shin-Okubo. You won't miss out on the Korean shopping experience as the promoters here are pretty much the same chatty ones you get in Myeongdong, South Korea 😛
Walk further into Shin-Okubo and you'll see plenty of stores selling K-pop merchandise. Some do sell albums and Korean skincare products on the side too.
The K-pop goods sold here are pretty much the same as those you can get in South Korea, though it's a slight tad bit pricier because everything is in yen. At the time this article is written, the rate is RM3.50 for every 100 yen. Fancy some high quality K-pop posters under RM20? Now you know where to get them!
The Korean shopping experience doesn't stop at K-pop goods, Korean skincare, or Korean food, because you can even get Korean fruits here in Tokyo itself! Came across these juicy looking persimmons but could not buy them because of the bulk I'd have to lug around town. Totally regret not buying them 🙁
One last thing you should know that you can find in Shin-Okubo is… the courier service store! Yamato Transport, also known as Ta-Q-Bin in Malaysia, has a store located in this neighbourhood. So if you are planning to buy a lot of Korean stuff here and can't bring it back home, you always have the option of sending it home in a package!
Last but not least, the nightlife in Shin-Okubo is pretty cool. When most of the stores in Tokyo close at 9pm, you can always come to Shin-Okubo for some shopping, late-night snacks and coffee. Most stores in Shin-Okubo close around 10pm to 11pm. Even the K-pop goods stores looks great when lighted up at night, so if you fancy a stroll at night, do make a stop here.
For coffee lovers, or better still, fans of K-drama 'Coffee Prince' should find their way here to the cafe named after the famous drama starring Gong Yoo and Yoon Eun Hye. Enjoy a cup of coffee here, and soak up the Korean culture.
Have you enjoyed reading about the Korean town in Tokyo? Stay tuned for our next article on the K-pop scene in Tokyo!