Twogether has made its way to the Netflix Top 10 daily rankings in over 5 countries which proves that there is no better duo to travel the region with than Asian superstars Lee Seung-gi and Jasper Liu. We've watched them trek across Indonesia, Thailand and Nepal and let's face it – the itch to travel is real!
The pair reminds us that the best part about going on a holiday is experiencing different cultures and cuisines, and beautiful sceneries that will act like food for the soul. On the other hand, the worst part is the planning – working around tight budgets, endless choice of activities and the strap for time!
We're already halfway through 2020 and many of us have yet to make time for a getaway. With travel still restricted around the world, what better time to sit down and plan out your holidays in advance by taking a page out of Jasper and Seung-gi's itinerary, courtesy of their lovely fans.
#WeGoTwogether To: Pokhara, Nepal
Seung-gi and Jasper reunite after a week away from each other in Pokhara, Nepal, with a warm embrace. Pokhara is dubbed as "the roof of the world", where nature and tradition coexist in a city surrounded by grand mountains.
Seung-gi and Jasper land in Pokhara International Airport and jump into a taxi for a 10 minute ride to Temple Tree Resort. The taxi fare cost them NPR 300 (RM11) while a night's stay at the 3-star hotel sets them back NPR 17,500 (RM625).
Upon arrival, Oppa Seung-gi makes a meal for Jasper – yummy Jumeok-bap, Korean style onigiri, Tteokbokki and dumplings.
Dhampus is a small and peaceful village, part of the base camp of the Himalayas. The duo's first mission in Pokhara is to trek Dhampus, get to the viewpoint and take a picture of Annapurna, which stands for 'Goddess of Nourishment' a mountain that's 26,000ft-high and 34 miles-long.
The Dhampus trek not only takes you to the best viewpoint of the mountain but it also takes you through a small village where the ethnic Gurung community live.
Seung-gi and Jasper manage to see Annapurna and of course, selfies are taken!
The scenic adventure continues with Pokhara Lakeside where you can rent a boat for NPR 600 (RM21) per hour to get to the Barahi Temple, or also known as Temple of Marriage,  in the middle of the lake.
A sacred place for lovers, it is said that your love will come true if you sacrifice an animal. This is also where Seung-gi and Jasper find locals playing Carrom Ball – the traditional game of Nepal.
After an eventful day in the city of lakes, the pair make their way to their sixth destination – Kathmandu!
#WeGoTwogether To: Kathmandu
Our favourite duo lands in Tribhuvan Airport for their last day in Nepal and speed off to their first location.
Bhaktapur Durbar Square is the most splendid cultural city in the history of Nepal as it is the royal palace of the old Bhaktapur Kingdom, with the whole city listed as a UNESCO World Heritage Site.
Dive into the traditional Nepalese culture, customs and the unique crafts of wood and pottery. The main attractions are Nyatapola Temple, the highest pagoda of Nepal ever built; King Bhupatindra Malla statue; the Golden Gate that opens to the courtyards of the Royal Palace; and the 55 Window Palace that has 55 intricately carved wooden windows.
Entrance Fee: NPR 1,500 per person
Seung-gi and Jasper visited a 150-year old heritage building which housed the late Royal Priest of the King of Nepal, where they got a taste of authentic and delectable dal bhat – traditional home cooking of Nepal. They are welcomed with Raksi, a traditional drink that Jasper says resembles Taiwan's Kaoliang liquor.
Soon after, the two are thrown into a song and folk dance of Nepal!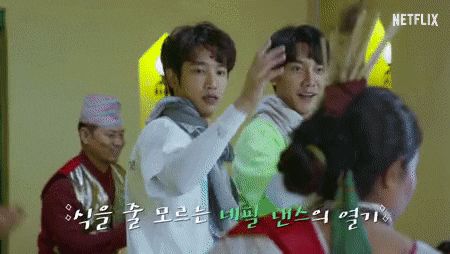 Experience the world of Twogether, now streaming on Netflix.