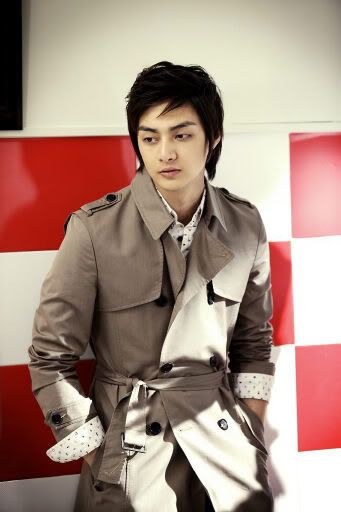 Kim Joon brought F4 together for the F4 Special Edition project
Very similar to his role in Boys Before Flowers, Kim Joon is the one who binds the F4 together. In the drama, Joon plays Song Woo-bin who's usually uninvolved romantically but provides his friends support and a listening ear to their problems. In real life, Kim Joon also acts like a "big brother" (and in actual fact he is the oldest among the four) and shows support to his F3 friend's projects.
Kim Joon and T-MAX showed up to support Lee Min Ho in his recent Cass Beer club event and even stood on stage with Min-ho to promote a healthy responsible drinking habit. Joon also congratulated Kim Bum on his new projects and attended a fan meeting with the youngest of the F4 members.
Kim Joon supporting his friends:
Left: At Lee Min-ho's Club 2X 2XTREME 20 event (17 May)
for Cass Beer – to promote responsible drinking habits.
Right: At a fan meeting with Kim Bum back in March '09
Even with their busy schedules, F4 reunited (not so sure about Kim Hyun-joong though) to work on the Special Edition music drama. To work on this post-drama project, it was reported that Kim Joon had a hand in rounding the boys up. He personally contacted them. With that, Joon played an important role in making the special edition project a success. Since it's launch on Mnet, the music videos have been viewed by a whopping 11 million viewers.
Some might say he isn't as popular as the other three guys and thus has more free time but perhaps he's just a regular nice guy and values his friends.
Source: Osen
Also check out:
F4 Special Edition Music Drama (Parts 3 & 4)
F4 Special Edition Music Drama (Parts 1 & 2)