11 guys from EXO planet will be in Singapore on August 23rd!
EXO, who were in Malaysia last August for the MTV World Stage will be Singapore in August this year instead! 
On April 16th, ticket sales for – EXO FROM. EXOPLANET #1 – THE LOST PLANET  (over 2 days) opened online and the concert was deemed sold out  under 2 seconds! The rest as they say, is "History". So far, the boys from Exoplanet have completed 11 legs of their first world tour, – EXO FROM. EXOPLANET #1 – THE LOST PLANET which included various Asian cities like Seoul, Hong Kong, Chengdu, Taipei and Shanghai. Following that, they will be marking their first showing in South East Asia with a stop in Singapore on 23 August 2014!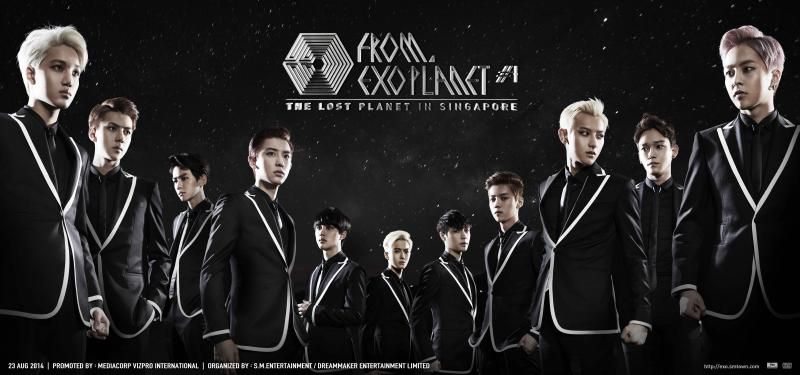 The Singapore leg to be held in the Singapore Indoor Stadium will be brought to you by MediaCorp VizPro International.  "This concert promises to be an out-of-this world experience and we are absolutely delighted to bring this opportunity to the fans in Singapore." said Moses Lye, Senior Vice-President, MediaCorp VizPro International.
Previous set lists for the concert in other countries include solo stages of each individual member, special dance stages (which include dance covers of their SM Entertainment sunbaes, Super Junior, Girls' Generation and SHINee) as well as songs from their previous releases, up to their latest "Overdose" single. It will also be interesting to see if there will be any changes made in terms of the set list in Singapore to ensure that repeated concert-goers will enjoy the same, especially since there are two versions to each song by EXO-K and EXO-M respectively. The boys alternated between the Korean and Chinese versions during their concerts in Taiwan.
Tickets will go on sale earlier for OCBC cardmembers on July 26th, 10am across at SPORTSHUBTIX and are priced at $288, $268, $198, $178 and $128 (not inclusive of booking fee). Public sales of the tickets will commence on the very next day, July 27th.
There is no doubt that EXO has been gaining a lot of momentum since the release of their first full-length album, "XOXO" and exploded with popularity after their re-packaged single, "Growl" was released. Will you be joining them at EXO Planet?