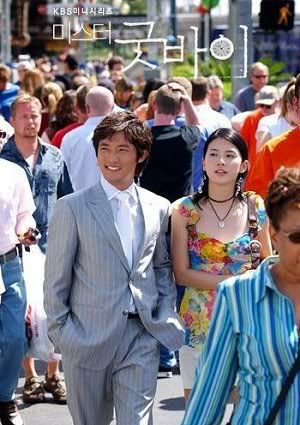 Ahn Jae-wook & Lee Bo-young in the
2006 KBS drama
Mr. Good-bye
This is the first time i am writing about Ahn Jae-wook. I've been sort of watching KBS World's encore drama Mr. Good-bye (2006) in which he stars opposite actress Lee Bo-young (Queen of the Game). I wasn't very impressed by him at first sight as he does not have the usual tall, good looks that Korean leading men all had. So i thought to myself…"What kind of lead actor is this? He's short and not that good looking. Can he carry a drama?" But before the hour was up, i was proven wrong and what this man lacks in height or conventional good looks, he makes up for in charisma and that certain x-factor. I've discovered that Ahn is attractive in his own way and has the unique ability to smile with his eyes. Okay, with that, here's some news on the actor (which i just found out, is a composer and singer as well!)

Actor, singer and composer Ahn Jae Wook (Saranghae-I Love You, Mr. Good-bye) recently won a revenue share lawsuit against a Japanese agency. The Seoul Central District Court instructed the agency to compensate Ahn Jae-wook more than 200 million won for payments not made to the artist.
Ahn Jae-wook in September 2008 filed a case that Japanese management agency IMX did not pay him proceeds from concerts and activities from his tour in Japan.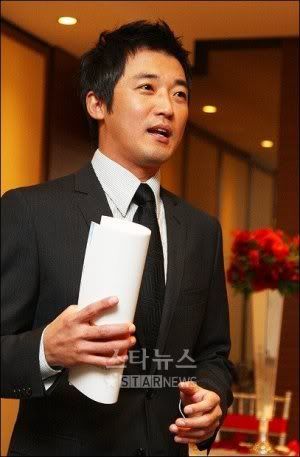 Ahn won the lawsuit against Japanese agency IMX.
Oh yes, they finally paid me what they owed me.
Meanwhile, Ahn Jae-wook (38) is now recuperating from a throat surgery he underwent in late March to remove a cyst. While recording his mini-album which will be released simultaneously in Korea and Japan, he felt something was wrong with his throat. Doctors found a cyst which had to be removed immediately. He was then given strict orders to rest his voice for at least a month.
Ahn was originally scheduled to go on a three-city tour in Japan on May 27th to promote his mini-album. However, this plans have been postponed due to the operation. Ahn promises to come back as soon as possible to resume recording his mini-album and concert preparation.
Related news:
Ahn Jae Wook at recording studio for 6th album
Ahn Jae-wook donates to Sichuan earthquake victims