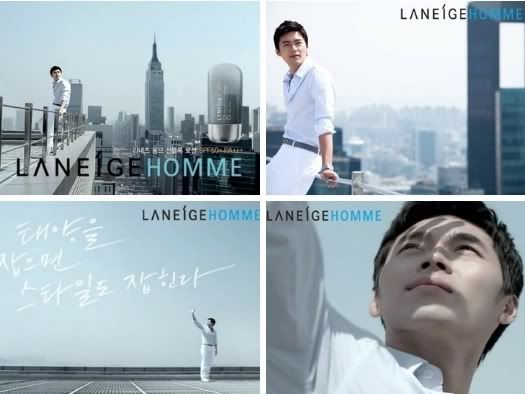 Hyun Bin is absolutely my favourite 

Laneige Homme

guy…
hmmm, not that i know of any other. 😛
Looking better and better these days, Hyun Bin (The World We Live In, My Lovely Samsoon) is the face of Laneige Homme (라네즈 옴므). His last appearance on behalf of Amorepacific's cosmetics brand Laneige was at the last pink marathon with Yoon Eun-hye.
Binnie's new CF is for Laneige's sun block lotion. The commercial was filmed on the roof-top of a building in Gangnam, Seoul. The purpose is to show off Seoul's cosmopolitan skyline.

Hyun Bin, who's in the middle of shooting his drama Friend, Our Legend is sporting very short hair and is looking very lean indeed. This look is very suitable for portraying a sophisticated male style.
All this talk is of no use, you'd just have to check out the videos for yourself.
Hyun Bin's Laneige Homme Sun Block Lotion CF

The Making Of – Laneige Homme Sun Block Lotion CF

Check out:
Hyun Bin's next drama : Friend, Our Legend