HELLO AGAIN!: Super Junior members at the PC are (l-r) Ryeowook, Donghae, Yesung, Eunhyuk, Sungmin & Eeteuk
What do you think about Malaysian ELFs? Also, do you remember the fan project Malaysian ELFs did for SS2 that brought you, Eeteuk, to tears?
Eeteuk: Wherever we go for performances, I would like to say hello in the local language because it is the only way I can show my appreciation (to fans).
Even though we are from different countries and we don't speak the same language, ELFs still support Super Junior, they still love our songs and they still love us for who we are.
Also during the SS2 in Malaysia – yes, I remember – I was so moved because there were so many ELFs that camped overnight at the stadium so I was very touched.
HAPPY: The guys are touched when they think about ELFs – their loyal and passionate fans
Super Junior has so many members. What is the biggest challenge for a group this big?
Eeteuk: Every member in Super Junior is very playful and happy-go-lucky so whenever we are together, we are happy and enjoy our time together. We always have fun so we don't really have problems between members.
However, the only problem we face is…you know, since we have so many members, we eat a lot so it's very costly *laughs*.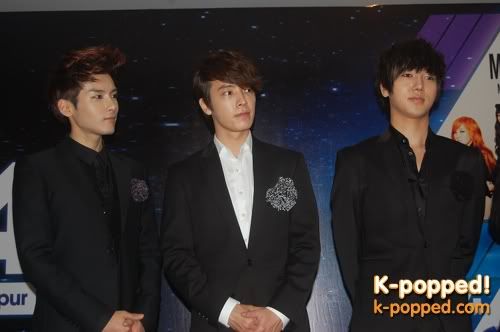 BIG EATERS?: These guys eat a lot? Oh c'mon, but their are so slim!
Super Junior is not only a Hallyu star, but nowadays, you are also known as a World Star. What do you think about your popularity overseas?
Eeteuk: That's right. *laughs* But being called a world star doesn't mean we should just receive the love from fans overseas.
I think what it actually means is for us to share the love with those who suffer from hardships and face difficulties. We will try our very best to visit those who are in need and help you with our love.
SUPER JUNIOR: Whoops, it looks like Donghae and Sungmin were not focused during the usual group intro 😛