Good news for those living Down Under! The 2011 K-pop Music Fest will be held in Sydney, Australia on Nov 12.
Expect the creme de la creme of the Kpop music industry to entertain you, namely SNSD, Miss A, TVXQ, KARA, SHINee, 4Minute, 2AM, CN Blue, BEAST, Secret, MBLAQ and Sistar!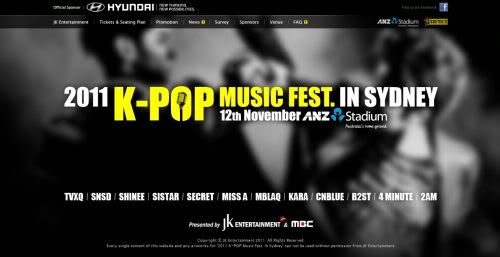 Yes, you read right, there will be 12 idol groups sharing the stage at this not-to-be-missed mega event.
The event, which is in celebration of the 50th Anniversary of Diplomatic Relationship between South Korea and Australia, is set to take place at the ANZ Stadium, Olympic Park – Sydney. The show starts at 7pm.
Tickets are currently on sale and they range from AUD89 (RM279) to AUD289 (RM904).
The concert is co-organized by JK Entertainment and Munhwa Broadcasting Corporation (MBC) in Korea.
For details on the event, go to: http://www.kpopmusicfest.com.au/