[Press Conference] Kim So-Hyun and Song Kang tease what will happen in Love Alarm Season 2
When "Love Alarm" season 1 was released on Netflix in 2019, it quickly captured the hearts of K-drama lovers globally, with its social commentary, love triangle, and stellar actor by young stars Kim So-hyun, Song Kang and Jung Ga-ram.
Before season 2 is released this month on Netflix, we caught up with lead actress and 'It Girl' Kim So-hyun (who plays Kim Jo-jo), Netflix's new k-drama poster boy Song Kang (Hwang Sun-oh), and director Kim Jin-woo (who directed the Korean adaptation of the hit American drama "Suits") at the press conference yesterday.
In season 1, we saw the eponymous Love Alarm app at the center of all the drama around high school student Kim Jo-jo, with its ability to 'ring' someone else's Love Alarm if you loved them. Still suffering trauma from her tragic past, Jo-jo was gifted a 'shield' by Love Alarm developer Chon Duk-goo (Lee Jae-eung), which prevents her from ringing anyone's Love Alarm – including that of her boyfriend, Sun-oh, which causes them to break up. Meanwhile, Sun-oh's childhood friend Hye-young, continues to harbor feelings for Jo-jo.
"Love Alarm" season 2 continues on with a small time skip after the events of season 1, with the promise of more 'mature' conflict and characters, according to Song Kang and director Kim. The app also has a new update – it now allows you to see people who have the potential to like you.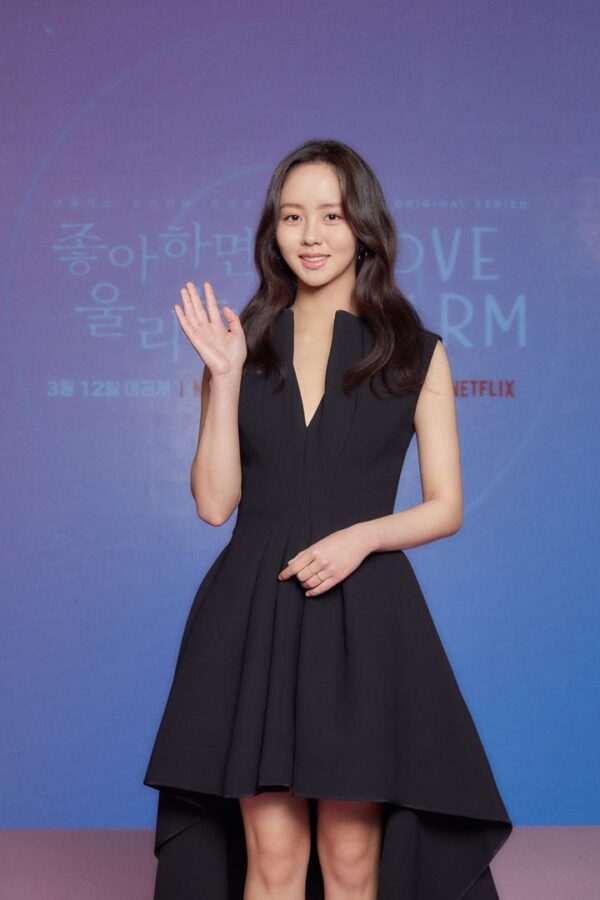 "The goal of season 2 is to tell stories we couldn't tell in season 1, with a more mature romance that reflects how the characters have grown," said director Kim.
"There was a lot of conflict in season 1, and how the characters overcome these conflicts is something to look forward to. Sun-oh was a heartbroken high school student and now he's an adult who's grown up," said Song Kang.
Will Jo-jo open up her heart and get rid of the shield?  
"Jo-jo used to be very defensive in a way, wary about her feelings being exposed to others, which led her to use the shield function so nobody knows how she feels. In season 2, the frustration from using the shield leads to her taking different actions which also leads to her personal growth," said So-hyun. 
The actress shared that it was hard to portray Jo-jo's conflicted feelings about the love triangle and Love Alarm, she credited director Kim for his detailed instructions and affection towards the series as helping her with best to portray Jo-jo.   
"The reason why I tried to have a lot of conversations with the casts is to share the loneliness and anxiety the characters were going through. The actors know the characters' best, so rather than give guidance I wanted to receive their energy and channel into the series," said director Kim, who admitted feeling anxious as the 'newbie' onset, compared to the strong camaraderie between the actors. 
Song Kang added that as the conflicts from the first season evolve into challenges Sun-oh must face, his character ends up crying a lot in season 2.
"I love Sun-oh very much so I re-watched season 1 and as I was trying to act those scenes where I cry, I literally became Sun-oh,  and that's why I shed a lot of tears. I think I shed more tears than I shed my entire life while being you (Sun Oh). Please know I'm always by your side," he said jokingly.
Asked about his nickname as Netflix's new favourite actor, Song Kang bashfully said it was an honour, with "Love Alarm" season 1 being his first Netflix Original, followed by this year's hit "Sweet Home", "Love Alarm" season 2 and the upcoming ballet drama "Navillera". It was also revealed that after season 1, his social media followers grew by 25% with fans showing him love from across the world, something even he has trouble believing.
Both actors said that if the app existed in real life, they wouldn't download it.
"Jo-jo's choices in the story ended up hurting both men without intending to. So for me, even if Love Alarm was real, I'd prefer to express my feelings in my own words," said So Hyun.
Song Kang agreed, adding that while the app is convenient, "I think delivering your feelings in your own words is more sincere."

So which character would the cast like to play if given a choice?
"I'd love to play Sun-oh rather as his alarm is constantly ringing, so I'd like to know how that feels and be popular for once," said So Hyun.
In reply, Song Kang said he wants to be Jo-jo because she's loved by two wonderful men. 
Ending the session, director Kim joked, "After filming the scene about the Badge Club, I took one of the badge props home, so I'd like to become a badge." 
"Love Alarm" season 2 premieres on March 12, 10pm on Netflix. Watch the trailer below.
Picture credits to Netflix